Our Mission
The Philadelphia Spin Coalition (SpinCo) is a volunteer run nonprofit that celebrates the growing movement arts culture in the Greater Philadelphia Area. SpinCo helps provide accessible and affordable movement arts education and social gatherings for people of all ages and backgrounds.
SpinCo is a PA 501(c)(3) registered tax-exempt nonprofit.
About SpinCo
SpinCo was founded in 2012 by hoopers who were frustrated with the lack of available space to learn and practice. SpinCo now offers spin jams and workshops across the city and surrounding regions. We believe that everyone should have the opportunity to learn about movement arts in a safe and fun environment.
A team of volunteers work to organize events and host workshops with both local and international instructors. We partner with many venues, ranging from yoga studios to parkour gyms, who open their space and provide discount rental rates for touring instructors and community gatherings. We provide event management, marketing and advertising, and venue hosting so our instructors can focus on creating amazing workshops for all to enjoy.
The Story of SpinCo
The concept of a Spin Coalition came to mind on a cold day in November of 2011 when newly found hoop buddies, Kelsey Lee and Tara Adelizzi, decided that it was too cold to hoop outdoors and began to look for a way to continue hooping through the winter. The problem was neither of them had enough space in their South Philly row homes to hoop freely. They decided to form a promotional partnership with an art collective where they helped promote the collective's events in exchange for a key and the freedom to use the space for personal practice.
At the time, there was no hoop community in South Philly. Kelsey and Tara realized that if a hoop community is what they wanted, they needed to create one. Their ideal community would not just welcome hoopers, but all kinds of spinners, performers, and anybody who wanted to learn.
The South Philly Spin Coalition (SpinCo) was officially launched in November 2012 with monthly open hoop jams where hoopers could come together, socialize, and exchange skills.
The popularity of the monthly open jams allowed SpinCo to begin to host weekly hoop dance workshops and more open jams at various gyms across the city. By the time SpinCo turned one, the community was no longer only operating in South Philly, but was hosting events all over Philadelphia. The name no longer fit and was changed to The Philadelphia Spin Coalition. The name sometimes appears shortened as SpinCo to represent the group's roots as South Philly Spin Coalition, although now it is largely stylized as SpinCo.
When SpinCo's home, the art collective in South Philly, was bought by a developer in 2013, the group began to actively search for a new space to hold classes. In Spring of 2014, SpinCo formed a partnership with Bikram Yoga Philadelphia through their donation based non-profit arm, Philly Yoga Factory. This relationship with Bikram Yoga Philadelphia is SpinCo's longest running partnership and is still thriving today, with many SpinCo workshops being held in their Center City yoga studios.
The Philly Flow Arts Community
Definition of Flow
Social scientists describe flow as the mental state of operation in which a person performing an activity is fully immersed in a feeling of energized focus, full involvement, and enjoyment in the process of the activity. SpinCo classes are flow­oriented and foster a low stress environment for people to learn and engage themselves, both physically and mentally with a variety of props such as hoops, silks, staff and poi. SpinCo promotes and supports any physical activity or art form which blends play, exercise, and creativity into a fun and healthy activity that moves the body, stills the mind, and uplifts the spirit.
SpinCo Values and Operations
Accessibility
SpinCo believes that it is important for people to easily find a community that motivates them to be healthier, so they work hard to create a safe environment for learning and work to ensure that every event is as accessible as possible to anyone who wants to learn.
SpinCo strives to create an educational space that inspires movement in a way that is healthy and fun for ALL ages and backgrounds. At workshops and other events, SpinCo provides props for practice and coordinates arrangements for students to purchase their own props through local vendors.
Affordability
To keep events as accessible as possible, every SpinCo function has a low cost option and a volunteer opportunity in exchange for a free ticket.
SpinCo holds two annual fundraisers, sells merchandise, and collects general donations through out the year to help with the costs of operation, as to not heavily rely on high priced workshop and event tickets for general funding.
Furthermore, SpinCo negotiates low-cost rental agreements through promotional partnerships with studios and venues that provide the space for all workshops and events. SpinCo works with a variety of different studios around the city, most notably, Philly Yoga Factory the non-profit arm of Bikram Yoga Philadelphia. It is with the help of local partners like Philly Yoga Factory that SpinCo is able to continue being low cost for students while ensuring workshop instructors are well compensated for their time and teachings.
Volunteers for Over 5 Years
SpinCo currently organizes workshops, holds community events, and promotes city-wide classes through social media, a large email list, and their well-established Meet-up.com Forum.
SpinCo donates time and resources to raising funds for movement arts teachers in the greater flow arts community and has held workshops taught by national and international performing artists by the likes of FloFox, Lux Luminous, Greg Haskins, Brecken Rivara, Noel Yee, Lauren Raske, Tara Adelizzi, Dustin Hubel, Matt Porretta, Katie Emmitt, Brad Rufio, Glo Guardiola, Josh Architorture, and Nick Minton.
SpinCo also supports the larger flow arts community as a whole in any way they can. SpinCo has assisted in fundraising for a documentary titled And Then I Started Hooping, supported DrexFactor Poi, an online teaching and tutorial-video producer, contributed towards the medical bills for Shane Ravenbane, a regional fire safety instructor, and worked on the collaborative DVD project Momentum, an New York based project that brought together an exceptional group of performers with the common goal, to push the limits of flow arts.
The SpinCo Power House
As the only flow arts organization of it's kind in Philadelphia, it is SpinCo's duty to engage high quality teachers, production, and most importantly, leadership.
The SpinCo Team is comprised of many volunteers all sharing the common goal to promote movement arts awareness and culture by connecting talented artists from all over the world with the local community.
The SpinCo Team has been hand selected based on passion, intelligence, and the ability to assemble and lead. Positions are based on nomination by those who are active participants of the general flow arts community.
Our Programs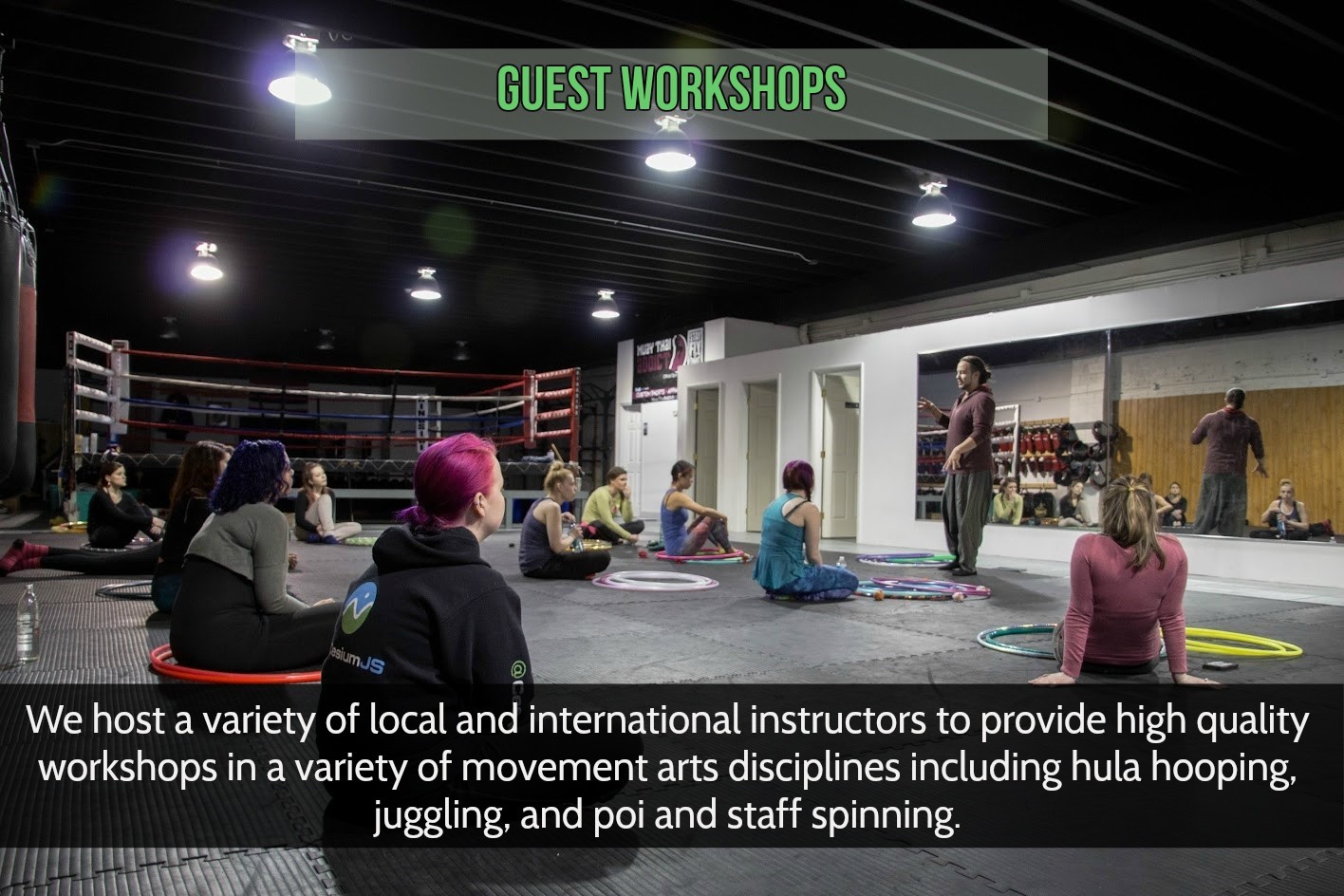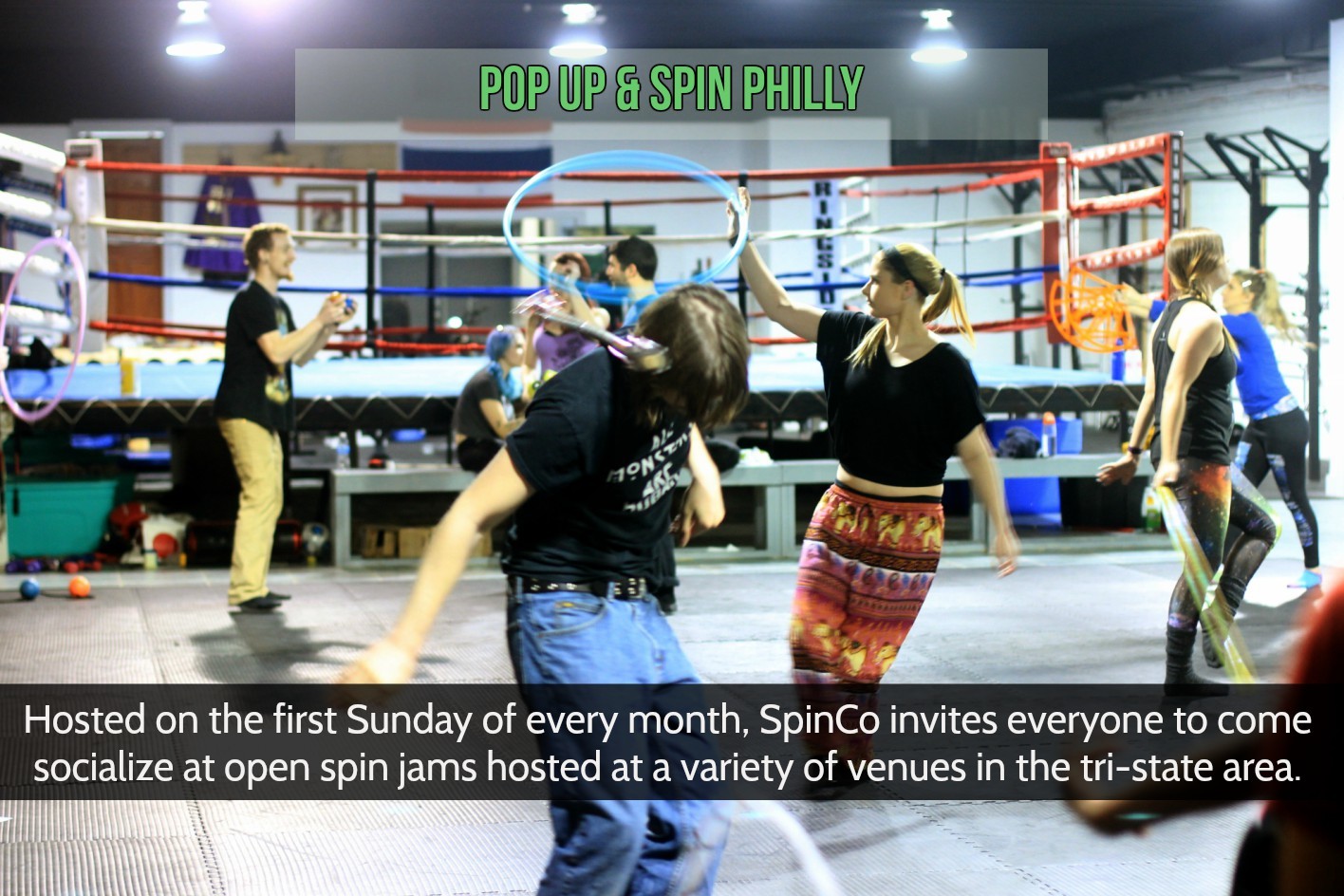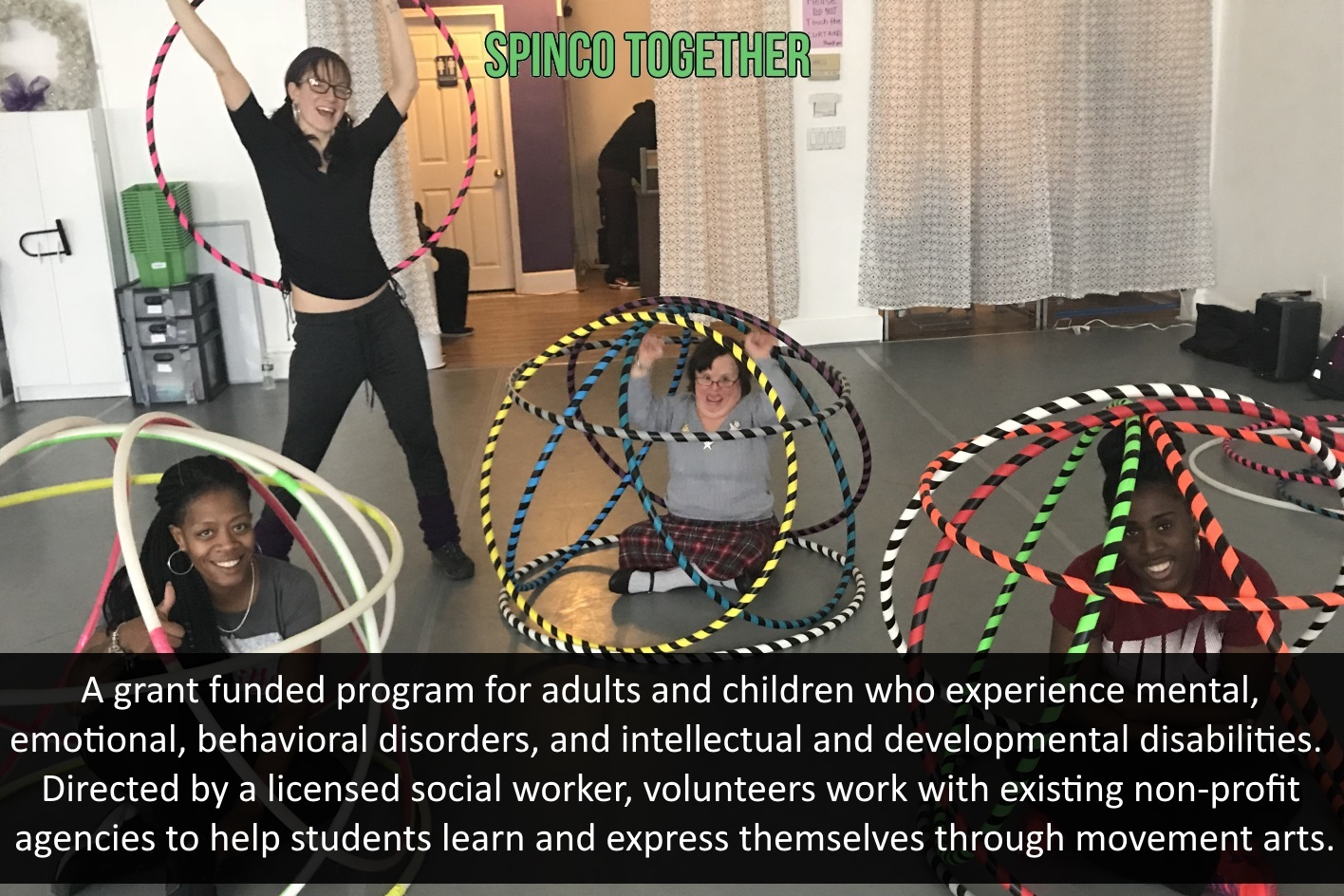 SpinCo is for everyone!