This all-year program started as an open skill share for our community of movement artists, consistently held monthly for over 3 years. Beginning full-time 2018, we have diverted our energy to events hosted by our local community. This summer, you can spot our pop-up at community events across the various neighborhoods of Philly and at regional conferences and festivals!
We strive to inspire art and movement by the creation of a space entirely based on learning - from each other.
Here's what you can expect:
Hula hoops, poi, and juggling balls for everyone to play and learn
Freeform instruction by the SpinCo Street Team
Energetic contests tailored to any age or theme
Free PRIZE hoops, etc. for various activity winners
Day or LED performances that wow any crowd
Pricing starts at $100. Contact us today with your event date, time, expected attendance, and registration URL.
SpinCo's Pop Up has been hosted by the following:
2nd Street Festival
3rd Police District of Philadelphia
954 Dance Movement Collective
Art Museum of Philadelphia
Ascend Flow Arts & Fitness
Clark Park
County Line Nursery "Fairy Festival"
Eastern State Penitentiary
Fishtown RiverCity Festival
Friends of Marconi Plaza "Movie Nights"
Friends of Mifflin Square "Movie Nights"
Fringe Arts "Fringe-a-thon"
Funicular Railway Station (Home of The Give & Take Jugglers)
Fusion Fitness & Tumbling
Germantown Friends School "Fun Day + Lantern Parade"
Hot Yoga Philadelphia
International Flow Arts Day
Kidchella Music Festival
Laurel Hill Cemetary Historical Landmark
Love Park
Millennium Dance Complex
Mummers Parade 2017
Parks on Tap "Twilight Music Festival"
PEX - The Philadelphia Experiment - "Summerfest"
Philly Yoga Factory
Pinnacle Parkour Academy of Cherry Hill
Pinnacle Parkour Academy of Philadelphia
Smith Memorial Playground
Rittenhouse Square Park
Rebel Circus Arts
Sera Phi Collective
Stay Fly Muay Thai
Steez Promo "Moonrise"
Technical.ly Philly - Philly Geek Awards
The Echo Collective
The Pincus Family Foundation
The Salvation Army Kroc Center of Philadelphia
Tyler Arboretum Garden
Washington Square Park
Will-Moor Gymnastics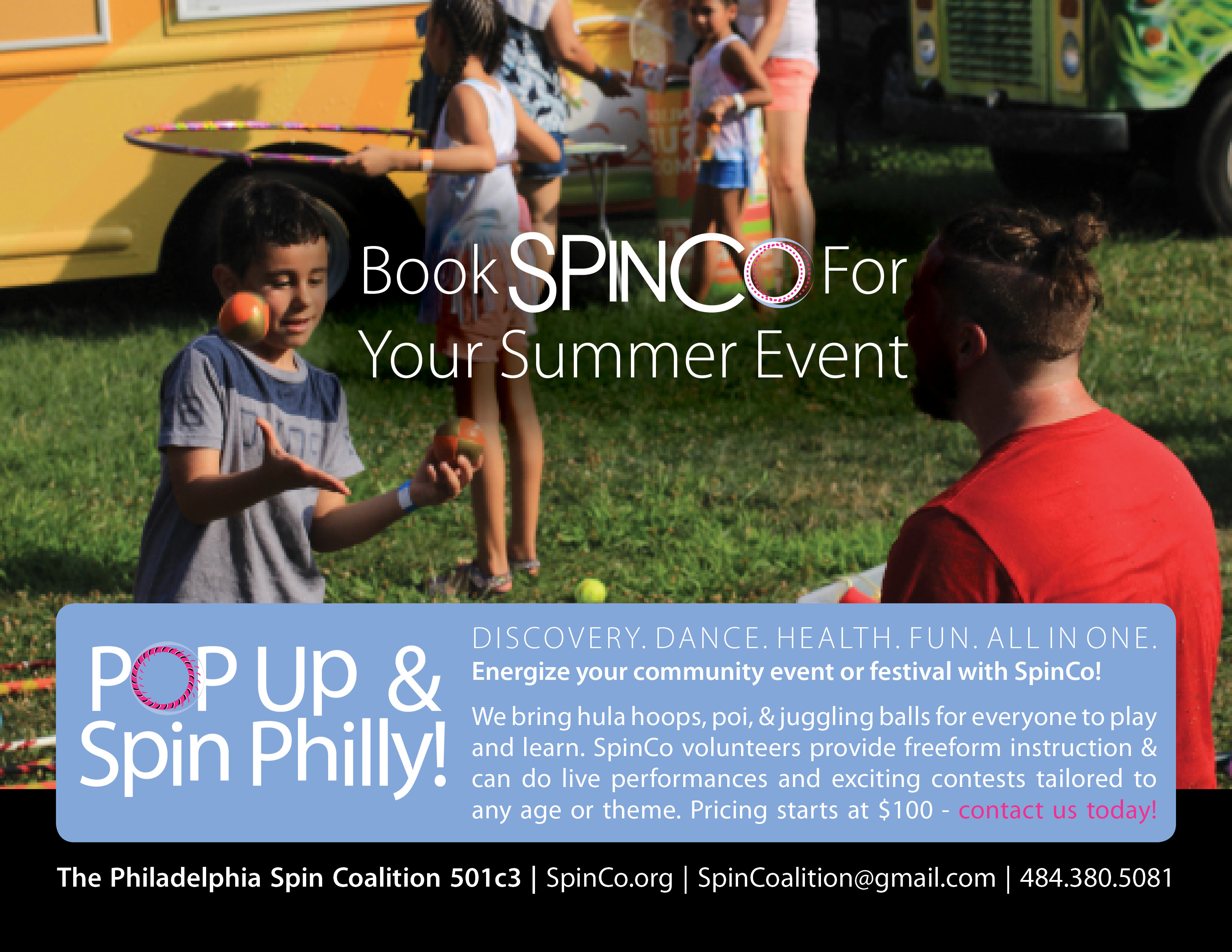 Become a Volunteer!
SpinCo is always looking for enthusiastic volunteers to help us reach our goals. Fill out our volunteer form if you would like to help!
Submit Now
Teach a Workshop
We are accepting instructor applications for workshops; seeking hoop, poi, staff, fan, fire spinners, and all other flow artists to teach students in the Greater Philadelphia area.
Apply Now