Faces of Flow
Faith Eternity Kateri
Faith Eternity Kateri is a 14 year-old unschooler who grew up between Philadelphia and NYC. Her main passion is traveling to various conferences and conventions around the country and seeing more of the world, taking in as much culture as she can, and meeting new people. The conventions she attends range from anything teen or family friendly, unschooling, to the horror and sci-fi genres, where she heavily participates with a cosplay group called "The Cosplaying Dead" doing photo appearances and having fun meeting celebrities whose characters they dress as. It was at one of these conferences in San Diego, CA. where she joined in with the "Good Vibrations Hoop Jam Funshop" in 2011 and fell in love with hooping and also won her first "Hello Kitty" hula hoop at an auction.
She divides her time being home in Philly with art classes at a youth art workshop, hanging at comic and coffee shops with friends and actively partaking in selling Girl Scout cookies and other Scouting events for the past 9 years. She enjoys helping in the community, volunteering for organizations such as "Big Brothers Big Sisters" of which she is now Alumni, voicing her opinions on a podcast called "Youth on Subjects of the World" and helping at "The March to End Rape Culture", where she hopes to continue to spread the word on how young girls are treated growing up. She is on a teen advisory board for the 2nd year to help teens nationwide and further to band together on similar issues. In addition to being a flow arts enthusiast since 2014, she loves surfing, belly dancing, and is an aspiring musician, playing bass guitar and singing in a current program at School of Rock Philly.
Faith has to laugh anytime people ask her or her Mom (who is her best friend) how Homeschoolers get socialization!
Nicole Guenkel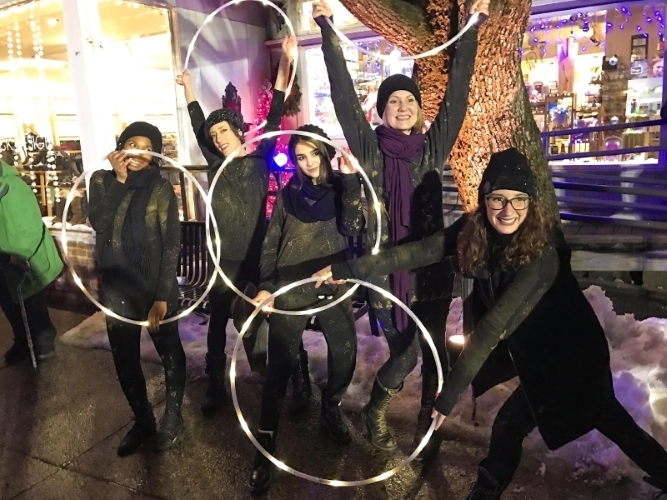 Every two years the Public Library Association hosts the PLA Conference and this year it's being hosted in Philadelphia! During this conference they host a cooperative learning experience called, "How to Festival," teaching practical, hands on skills that can be learned in a short 20 minute session. It's a fun way for PLA attendees to learn something new an incorporate it at their library in some capacity. Nicole Guenkel, of upstate New York, will be teaching a "How to Hoop Dance," workshop during this event! She will be teaching a 20 minute presentations on the whys and hows of hoop dancing in public libraries. During her tenure as the Head of Youth Services for the Poughkeepsie Public Library District she scheduled hoop dancing workshops for children, tweens, and teens! This program has a dedicated group of young people that attend regularly. She enjoys seeing young people develop more coordination and confidence though hoop dance. Nicole has also preformed at the City of Woodstock's Christmas Jubilee Parade of Lights with Small Tribe Hoops, representing the 5 Golden Rings of The 12 days of Christmas. You can see the photo below, Nicole is the brunette in the back holding her hoop above her head. Nicole is inspired by Caterina Suttin, Rachel Sullivan, and Chris Hawley. She also enjoys watching videos and learning from the Infinite Circles Community.
Want to see more of Nicole? You can check out her Instagram, GrayLadyLadyGray.