Migrate with KaytiBunny to hELLO Beach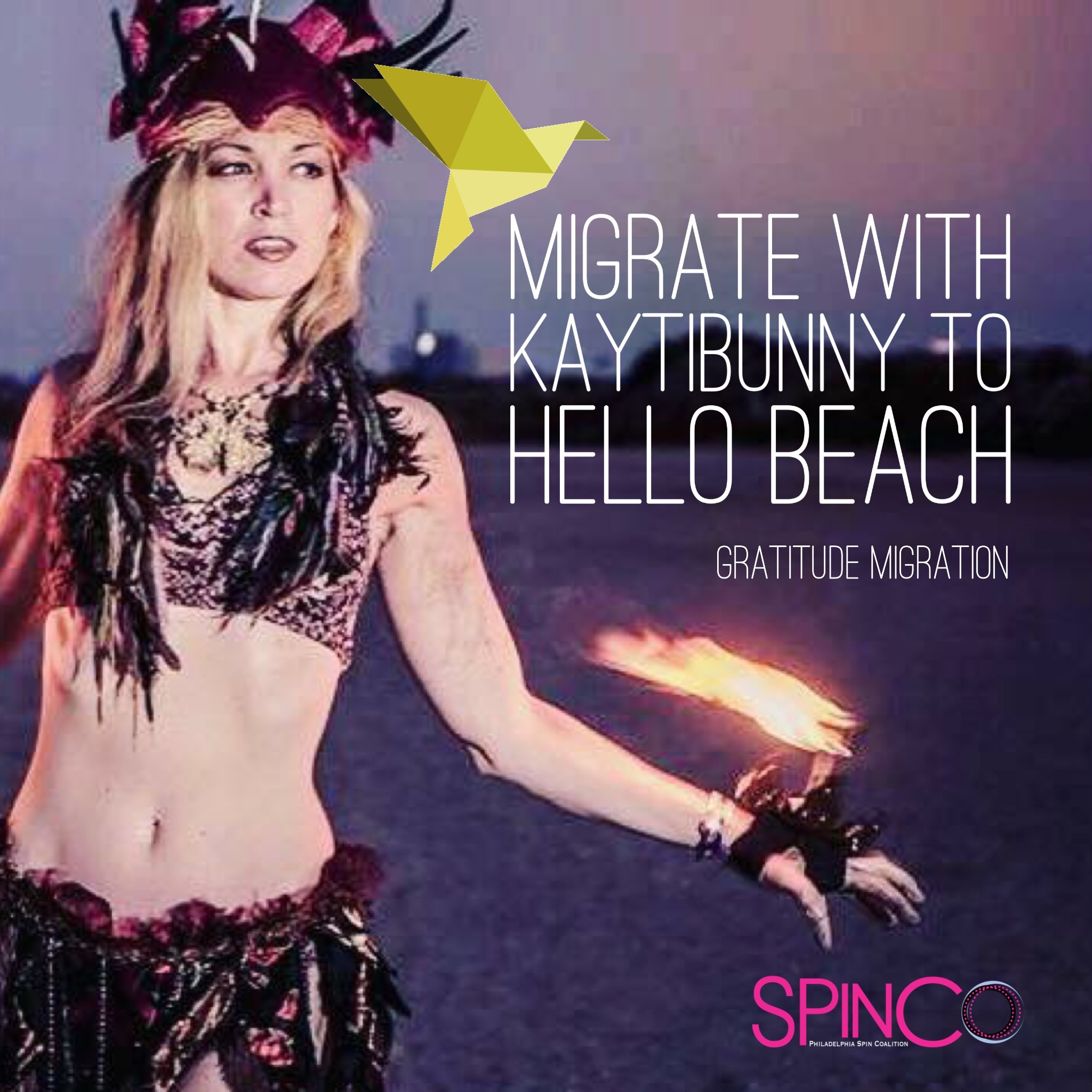 KaytiBunny Roberts—not your typical name. But not your typical woman either. Roberts is a professional flow artist with a knack for heat. She twirls fire, eats fire and breathes fire. And that's just the beginning.
Roberts is an international touring artist who's performed at some of the largest festivals in the world such as Envision Festival in Costa Rica, Luminate Festival in New Zealand and she's now headed for Gratitude Migration on the newly restored hELLO Beach of Keansburg, NJ as Performance Director, casting yet again the notorious Dreams of the Last Butterflies. Among the cast of 12, see local Philly performers Madeleine Belle as Butterfly Queen, Large Blue, and PEX founder, Lee Mayjahs, disguised as a Trapper.
migratewith.us | tickets | July 15-17, 2016
Roberts is a go-getter to say the least. Described as,

"a superhero of the flow arts broadcasting day-glo living color,"
she puts in a lot of time to hone her craft. Her craft includes stilt-walking, singing, hula hooping and much more. Her attention to detail is the reason festivals want her and aspiring artists from all over the world anticipate her teachings while on tour.
If Gratitude Migration is just a fraction of the performer that Roberts is, plan on a magnificent show, full of precision and flow. Expect Gratitude Migration to be a breath of fresh air (or fire) with Roberts on board because everything she does is beyond expectation. As she said,
"I'm an object manipulator, you put something in my hand and I'll spin it around."
This won't be the last time Roberts will be on the east coast. Philly will have the opportunity to learn from her Spring 2017. While you wait for it to appear on the SpinCo calendar, check back here for (part 2) a decompression review of Gratitude, to see if her performance vision came true.

Noe Garcia | www.noecgarcia.com | Santa Paula, CA | @NoeCarlosGarcia
Kelsey Lee | in/kelseyelee | Philadelphia, PA | @Kelsey_weekLee