Looking at our Flow Arts Community: Community Engagement

Community Engagement is the process of building relationships with the members within your community. For the Flow and Movement Arts community, we all hope for people to step up and work with us to promote the value of the movement arts, so that we may have an army of support for this art form. SpinCo is heavily involved in this movement, and the survey we hosted earlier this year is testament to our commitment of understanding our community members.
Beyond Event Attendance
A huge part of having an engaged community is by seeing how many people are actually showing up to community events.
Our survey revealed that 3/4 of people attend flow arts related events, workshops, or classes. Furthermore, they want to become more involved in the flow arts community. Engaging these people beyond the event they are attending is important when trying to build community.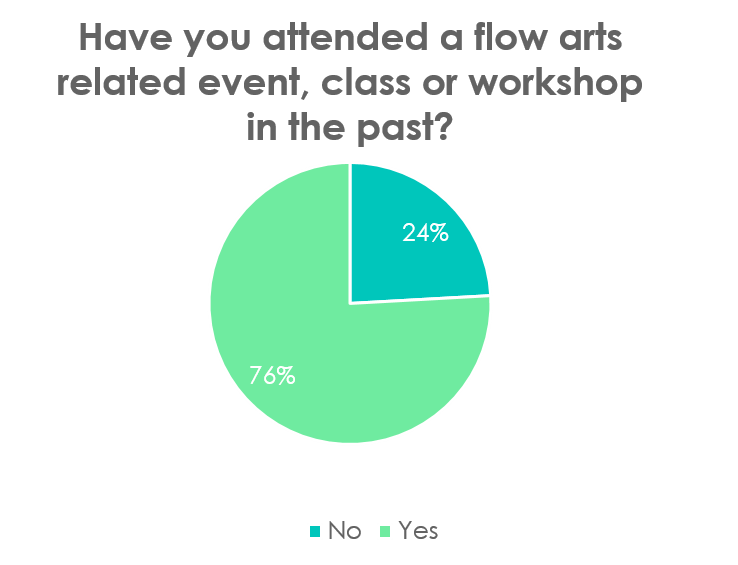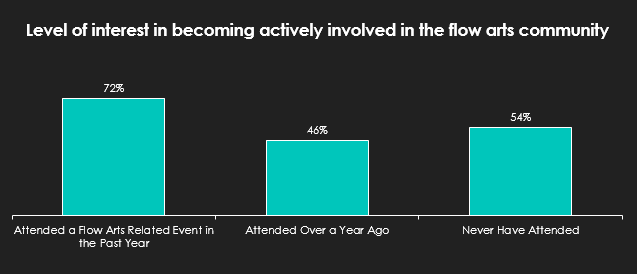 As shown above, the majority of people who have never attended an event share a strong desire to become involved in the flow arts community. Distance is the primary reason for not attending events. Other reasons were cost and not having a friend to go with.
While we cannot do much to satisfy each geographic area and price point, we can address the 3rd obstacle, discomfort. Some individuals feel like they do not know anyone.
How SpinCo Applies this Information
The SpinCo community hosts monthly $5 pop up jams to help our community connect and get to know each other. We also try to keep an active and friendly social media group so people can feel comfortable in asking questions. However the best way to do this is to reach out. See someone who is watching you spin? Approach them and invite them to learn with you. SpinCo is also looking towards the future to host regular town hall meetings, so we can hear the challenges and concerns of the Philadelphia flow arts community.

Are you interested in being a part of reaching out to new members of our community? Contact us and help grow the flow arts in Philadelphia!