May Hoop Workshop Weekend w/ ThatHoopGuy & Leen.illusions
When:
May 14, 2023
Time:
1:00 PM – 4:00 PM
Where:
The Cube, 4700 Wissahickon Ave, Philadelphia, PA 19144
Cost:
$35-100
Mike Hayataka (@ThatHoopGuy), and Leena Park (@Leen.illusions) are coming to your town to teach hula hoop on a workshop tour! Leena and Mike are excited to offer in person group workshops on some of their favorite hoop techniques. Mike has been hooping for over 12 years, teaching hoop for over 10 years. He's taught at over 60 hoop and flow related retreats and festivals in the US and internationally. Leena has been hooping for almost a decade and teaching hoop for 7 years. She has taught at many flow festivals and hosted her own workshops all over the US. Join them in leveling up your hoop skills before festival season. You can attend a single class, or purchase the class package for a deal.
Pricing:
Single Class $35
Two Classes $60
All Four Classes $100

--------
WORKSHOPS

Saturday, May 13
1:00-2:30pm - 2H 1H Openers w/ Leena
All levels **No pre-reqs**
Looking to take your double hooping skills to the next level? In this 2 hoop 1 hand class, we'll explore a variety of techniques and combinations to add more depth and complexity to your twin tech repertoire. Whether you're a beginner looking to expand your skills or an experienced hooper seeking new challenges, you'll learn how to control and manipulate two hoops with one hand in innovative ways. By focusing on hand strength and precision, we'll unlock a whole new world of possibilities for your hoop flow.

2:30-4:00pm - Hot Buttery Chest Rolls w/ Mike
All-Levels **No prerequisites required, all kinds of prop-manipulators encouraged**
In this class we will learn how to do a super duper clean, basic chest roll. The focus is not on how many different kinds or variations, but how to have a perfectly controlled chest roll that has contact from finger to finger. Then, we will focus on variations. Mike has been doing chest rolls for about 12 years now, and it has been one of the most important moves in his practice. This move can truly show you that you are capable of anything, and that practice and dedication are worth it. If you have ever thought that you cannot do a chest roll with a hoop, PLEASE COME TO THIS CLASS!!!

Sunday, May 14
1:00-2:30pm - Breaking Planes w/ Leena
Intermediate Level
Are you tired of feeling limited by your current hooping planes? Ready to break free from the same old moves and spice up your double hoop technique? Then this Breaking Planes class is for you! We'll explore exciting new tricks and transitions to take your hooping to the next level. You'll learn the staples of my double hoop tech, including moves that will challenge your coordination and creativity. Through focused drills and playful exploration, we'll work on unlocking new dimensions of movement and flow. So come join us and break out of the box with fresh, spicy, and dynamic double hoop moves!

2:30-4:00pm - Hoop Balance /w Mike
All-Levels
Mike has been obsessed with hoop balance for the last 8 years and this class is an opportunity to share all he's learned. Designed to give beginners the basic exercises to practice, and to give experienced balancers new ideas, this balance class is great for all levels. Even if you don't use hula hoops, hoop balance has no prerequisites so please join us. We will be learning techniques from the hand and finger-tip balances to the butterfly and face balance. If you seek calmness mixed with constant concentration in your practice, come balance some hoops with us!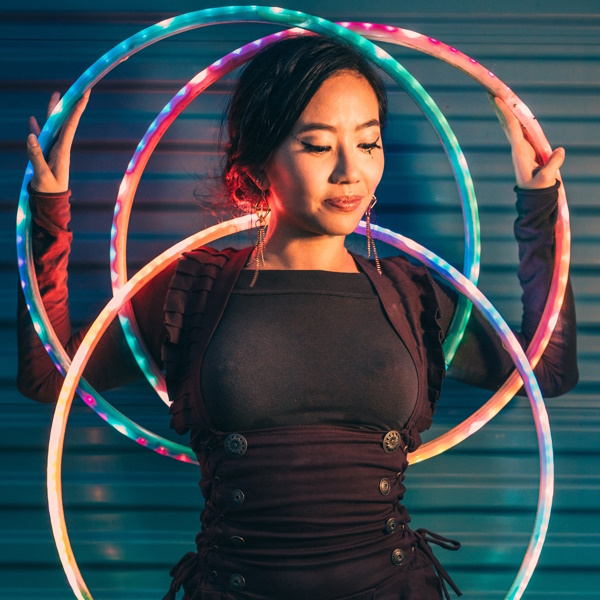 Leena is an accomplished movement artist and seasoned instructor with almost a decade of experience in flow arts. Based in the Midwest, she has developed a wide range of skills that encompass hula hooping, fire manipulation, and acrobatics, among other disciplines. Leena's journey began in 2014 with a hoop, and since then she has continued to explore and refine her craft with dedication and passion. With over 7 years of teaching experience, Leena is committed to sharing her knowledge and skills with others, and she strives to help her students push beyond their limits and discover new levels of creativity and expression.
Instagram: @Leen.illusions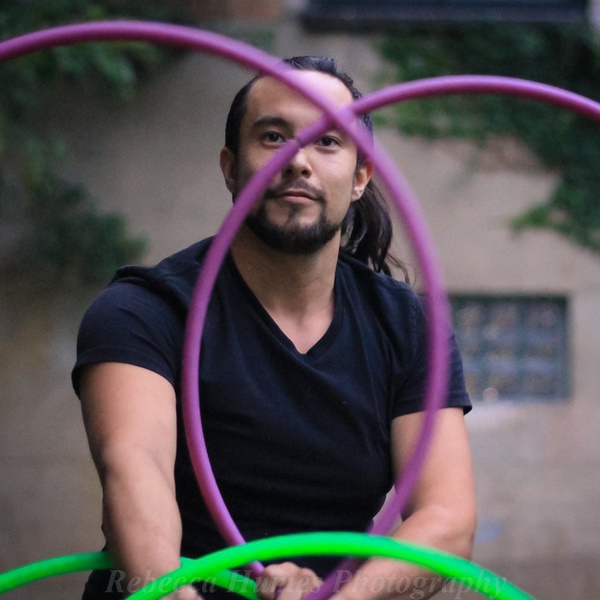 Mike has been hooping for over 12 years and in that time has fallen in love with hooping and teaching object manipulation skills. With his unique style and liquid flow he's taking his over 8 years of teaching experience to the flow community. Making these connections have allowed him to grow as a person in a safe environment. His analytical teaching style informs intuitive, hard to explain concepts, through single technique-based breakdowns. With a successful international and domestic workshop portfolio he has taught at over 60 flow and hoop events over the last 8 years, and is ready to share his knowledge with you.
Instagram: @ThatHoopGuy
Event Details
When:
May 14, 2023
Time:
1:00 PM – 4:00 PM
Where:
The Cube, 4700 Wissahickon Ave, Philadelphia, PA 19144
Cost:
$35-100