Exotic Hoop Dance Werkshop this Valentine's Day with Madame Lola (Glo)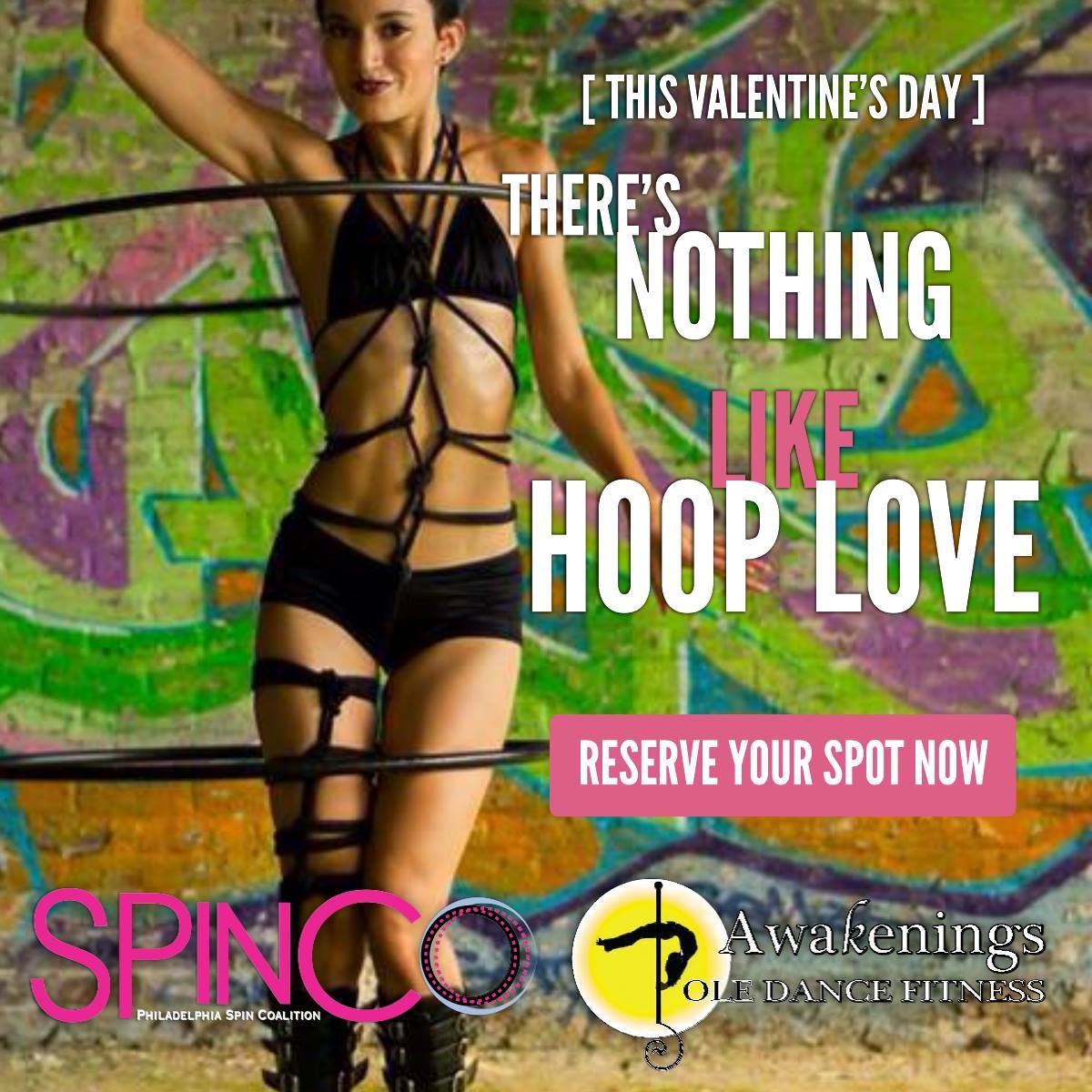 When:
Feb 13, 2016
Time:
12:00 PM – 2:00 PM
Where:
Awakenings Pole Dance Fitness-Manayunk, 4151 Main St, Philadelphia, PA 19127
Cost:
$30 per person advance online only
Guided by model, performer, and hoop dance extraordinaire, ~Madame Lola~ will help students find comfort in being sexy with their own bodies and how to accentuate their sexiness using hoop dance. Students will partake in hoop gogo & hoop dance exercises and class will end with conversation about the emotional relationship students have with themselves, their bodies, and sexual expression.
GET SAUCY WITH YOUR HOOP THIS VALENTINE'S DAY WITH MADAME LOLA!
Gogo Hoop Dance
Whether you want to spice things up on stage or learn new dancy hoop tricks, Madame Lola will teach you moves that are sure to impress!
Closing circle
Every woman should have the opportunity to share an experience about their bodies from sexuality to overcoming trauma.
In the words of Ru Paul... "You better werk!"
About the Instructor
Madame Lola, also known as Glo, began performing & teaching hoop in 2011, a year after she was first introduced to the prop that began her journey into performing arts. Since then she has performed with a variety of props, spinning lights and fire, while also studying and performing various styles of dance such as latin, burlesque, hip hop, Puerto Rican folk dance, pole, and gogo.
Prior to becoming a full time model and Philly's finest stage performer, Madame Lola was a quiet poet, photographer and mixed media artist, which brings meaning to her stage name, Madame Lola: a combination of her kink influenced style and the name of her aspired notorious Spanish dancer Lola Montez. Madame Lola is currently affiliated with Go Gurlz, Setu Tribe and Happy Is.
For specific questions about this workshop, Lola asks you PM her on Facebook.
About the Studio
Awakenings Pole is located in the downstairs area of SWEAT fitness. Completely closed off and private, enjoy floor to ceiling mirrors that surround the entire studio and soft mood lighting. Perfect for getting sexy!
What to wear?
Come in gogo or burlesque style attire that suits your style. Students will be encouraged to strip down to their panties, but there is no pressure or judgement, everyone is free to wear or remove as much as they choose.
What to bring?
No prior experience in any movement art or prop. Although, Madame Lola recommends you bring your hoop or prop if you are looking to incorporate into your dance.
Parking
Street parking or studio affiliated parking lot on Jamestown St. in between Cresson and Main St. on the right hand side. It is a stone lined parking lot that is used by Valet parking and Philadelphia University. You can find it by looking for the dog/cat mural on the side. Lot parking costs $2.50 for one visit. Parking passes can be purchased in the studio.
Public Transportation
The SEPTA #61 bus goes straight to the studio and the studio itself is a 10 minute walk from the Wissahickon Transfer Station where many other buses go to. The regional rail also gets you right to the studio - take the Manayunk/Norristown line to the MANAYUNK stop.
No cash sales will be accepted at the door unless previously arranged.
Event Details
When:
Feb 13, 2016
Time:
12:00 PM – 2:00 PM
Where:
Awakenings Pole Dance Fitness-Manayunk, 4151 Main St, Philadelphia, PA 19127
Cost:
$30 per person advance online only